Image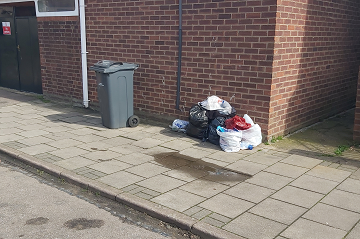 The latest success in the Council's campaign against fly-tipping involved bags of waste found dumped in Coventry Road, Bedford in March.
The Council's Environmental Crime Team attended the scene and found evidence leading to the offender. The man chose to pay the Fixed Penalty Notice this week instead of attending an interview with Council officers under caution. The Fixed Penalty Notice for fly-tipping is £400, which can be reduced to £300 with an early payment discount.
A Bedford Borough Council spokesperson, said,  "Fly-tipping is a criminal offence and we are taking a zero-tolerance approach by issuing a Fixed Penalty Notice or prosecuting anyone we find committing this crime. Fly-tipping can damage our natural habitats, pose health risks, and creates an eyesore in our communities. The cost of cleaning up after fly-tippers is an unnecessary burden on taxpayers and we will continue to raise awareness that it is criminal and unacceptable."
The Council is encouraging local residents to work with them and report fly-tipping as soon as they can. This will give officers the best chance of catching those who have committed the crime. The Council is also encouraging local residents to help identify individuals caught fly-tipping on camera. These images can be seen at www.bedford.gov.uk/caughtoncamera.
They added, "If you have extra waste please take it to the Household Waste and Recycling Centre in Barkers Lane, Bedford or arrange for a licensed waste carrier to collect it - don't leave it on the street or by litter bins."
The Council is urging residents who see fly-tipping, or someone actually fly-tipping to report it online at www.bedford.gov.uk/fly-tipping.
For information about the Household Waste and Recycling Centre residents can visit www.bedford.gov.uk/hwrc.
Bedford Borough Council will continue to work tirelessly to tackle the issue of fly-tipping in Bedford Borough. Together with the community, the Council is committed to making a difference and ensuring that Bedford Borough is a clean and pleasant place to live.
Related news