Image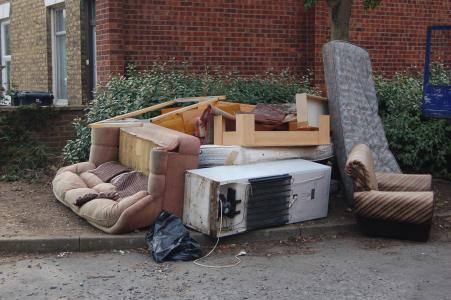 Bedford Borough Council often sees an increase in fly-tipping during spring. Much of this is from rogue waste carriers illegally dumping waste they've collected. These people avoid paying disposal fees so they can maximise their profits and unfairly undercut local legitimate businesses.
Residents and businesses have a legal 'Duty of Care' responsibility to make sure all waste from their household or business is disposed of correctly. If it isn't then they can face prosecution with an unlimited fine if their waste ends up fly-tipped.
A Bedford Borough spokesperson said, "Always be wary of door-to-door offers to take waste away, or informal quotes on social media. Offers may be genuine, but if an offer looks too good to be true, it probably is. For instance, £50 would not cover the cost of disposing of a large van of waste legally. Always be cautious, as you could be held responsible if your waste is fly-tipped.
"Check a waste-carriers licence regardless of how genuine they appear, any person you pay to take away your waste must have a waste carriers' licence. Ask where they will dispose of your waste, make sure you get a receipt and make a note of the registration number of the vehicle they use."
Bedford Borough Council advises people to follow these simple SCRAP guidelines;
SUSPECT! Don't let anyone take your waste until they have proven themselves to be licensed waste collectors.
CHECK! Verify their waste carriers licence using the Environment Agency website www.gov.uk/find-registered-waste-carrier or by calling 03708 506 506.
REFUSE! If you do not trust someone to dispose of your waste legally don't give it to them.
ASK! A legal waste carrier should happily provide their waste carriers' licence and details of where they are taking your waste to.
PAPERWORK! Always get a proper invoice, waste transfer note or receipt, including a description of the waste removed and the waste carrier's contact details. Always note the registration plate of the vehicle used to take the waste away.
Bedford Borough Council provides a service for the collection of bulky waste that is too large for regular household waste and recycling collections. Details and charges can be found at; www.bedford.gov.uk/bulkywaste
Residents can also dispose of their waste at Bedford's Household Waste Recycling Centre, find more details and check if you need to get a free permit before you visit at www.bedford.gov.uk/hwrc.
Related news