Image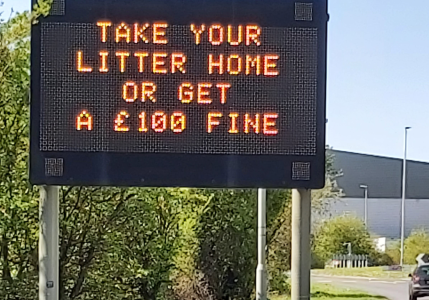 Bedford Borough Council is calling on motorists to help in a clampdown on road users who throw litter from their vehicles. The council has been collecting large volumes of roadside litter each day during targeted litter picks in February and March. Council crews have to regularly carry out this dangerous task alongside major routes such as the A421 and A6.
A Bedford Borough spokesperson, said: 'With the growing number of dash cams in use residents can now help us by providing video footage. It can be reported by visiting the council's website and using the online form at www.bedford.gov.uk/litter. Photos or video footage can be uploaded to help the council identify and take action against those responsible.
"Litter can be anything from a sweet wrapper or cigarette end to a full bag of rubbish. It is a blight on our communities and it's important that everyone takes responsibility for their waste. We are working hard to keep our streets and public areas clean but we encourage the public to cooperate by not dropping litter from their vehicles and to support us by reporting littering online if they see it."
The Council treats all environmental crime seriously and warns that it will continue to take action against anyone caught littering.  Over 1650 Fixed Penalty Notices have been issued to people by the council's Environmental Crime Team in the last twelve months.  Fines for littering can range from £100 for a Fixed Penalty Notice and up to £2,500 if prosecuted.
They added, "Everyone is being urged to play their part in keeping Bedford Borough clean by not throwing litter from vehicles. Drivers must hold onto their litter until they can dispose of it properly. We all have a responsibility to keep our environment clean, safe and welcoming for everyone."
Related news