Image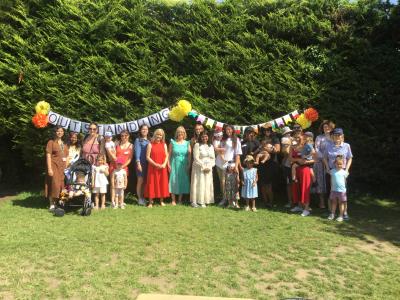 Peter Pan Nursery School in Bedford is celebrating two big successes this year. The maintained nursery school, which was founded in 1973, is marking its 50th anniversary of providing high-quality Early Years education to children in Bedford Borough.
If one celebration isn't enough, the nursery has received an "Outstanding" rating from Ofsted, following their recent inspection in April 2023, with the report stating that "Children flourish in this small school. They develop as independent, enthusiastic learners in a diverse, stimulating community. Leaders are ambitious for every child to achieve well".
To commemorate these momentous achievements, Peter Pan Nursery School held a grand celebration event on Friday 7 July, bringing together their hard-working staff, proud parents and delighted students. Former members of staff and Mohammad Yasin MP also joined the celebration.
Julie Smith, Executive Headteacher at Peter Pan Nursery School, expressed her heartfelt gratitude to everyone who contributed to the school's success, saying, "We are overjoyed to celebrate our 50th Anniversary alongside an outstanding OFSTED report. This achievement is a testament to the hard-work, dedication and passion of our skilled staff and the strong partnership that we have with our families. We are committed to providing children with high-quality early years education and care so that they have the best possible start and foundation for future success. We are looking forward to inspiring children's love of learning for another fifty years."
Cllr Jane Walker, Portfolio Holder for Family, Education and Children's Service at Bedford Borough Council, also shared her thoughts on the occasion, stating, "Peter Pan Nursery School is a cornerstone of our town, offering excellent early years education to the local community for the past 50 years.
"This outstanding OFSTED report is a testament to the school's commitment to excellence and its positive impact on the lives of countless local children and families. We are immensely proud of their achievements and look forward to their continued success."
Peter Pan Nursery School, together with Cherry Trees Nursery School, form Bedford Nursery Schools Federation. If you'd like to find out more about admissions, you can visit the Peter Pan Nursery School and Cherry Trees Nursery School websites.