Image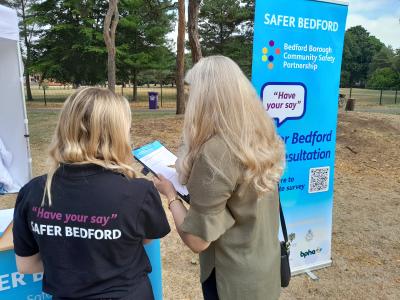 Bedford Borough Council is inviting residents, visitors and businesses to voice their opinions on the potential extension of the current Public Space Protection Order (PSPO), set to tackle street drinking and related anti-social behaviour within Bedford town centre.
In response to concerns of the local community regarding Alcohol Related Anti-Social Behaviour, the Council introduced the PSPO in December 2020. This measure has proven effective in reducing complaints received in the Borough, yet it is clear that the issue persists and remains a concern for residents, visitors and local businesses.
The Community Safety Partnership conducted a consultation in the summer of 2022, revealing ongoing high levels of concern about the negative impacts of alcohol in the town centre.
The current PSPO is set to expire in December 2023, so the Council is asking for people's views on whether it should be extended for a further three years.
Cllr Phillippa Martin-Moran-Bryant, Cabinet Member for Community Safety, said, "We take the concerns of our residents seriously, and the PSPO has been an essential tool in managing anti-social behaviour related to alcohol in our town centre. We value your input in shaping the future of these spaces and are really keen to hear your views, which will play a crucial role in our decision-making process."
PSPOs were introduced under the Anti-Social Behaviour Crime and Policing Act 2014 to address specific nuisances or issues detrimental to local communities by imposing conditions on the use of certain areas. This approach aims to enhance the overall quality of life for residents.
The consultation period will run from Tuesday 12 September 2023, and all responses must reach the Council by Thursday 12 October 2023. The feedback received will be compiled into a comprehensive report, which will be presented to the Council's Executive Committee on Wednesday 22 November 2023.
To have your say, can visit www.bedford.gov.uk/TownPSPO. Paper copies of the survey are also available for collection from Bedford Central Library.