Image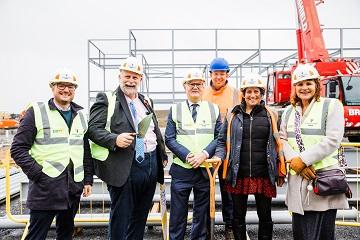 Willow Grove Primary School in Wixams has come a step closer to opening following completion of the school's foundations.
The new school is set to be open in September on a 3.4 hectare site in the future town centre, and will be part of the Kingsbridge Educational Trust.
A special celebratory event to mark the landmark was held on Wednesday, where Bedford Borough councillors toured the site to see the progress so far.
The first cohort will be 25 Reception children, 25 Year 1 and 25 Year 2 pupils, but in time the school will expand to be four-form entry with 120 children admitted each year and 840 pupils across the school.
Pupils will be able to enjoy high-spec purpose-built new classrooms, a large hall, library, specialist rooms, playing fields with a range of sports provision, and car parking for staff and visitors.
Wixams already has two existing primary schools and a secondary school, with demand growing as the population expands. Wixams is expected to become the third largest settlement in the Borough, after Bedford and Kempston.
Councillor Jane Walker, Portfolio Holder for Family, Education and Children's Services at Bedford Borough Council, said; "Willow Grove will be a key part of Wixams for generations to come, making it very exciting to see the vision being brought to life.
"This school will be at the heart of a new community with children who only deserve the best. We are determined to do everything we can for their future."
Councillor Hayley Whitaker, Executive Member for Families, Education and Children at Central Bedfordshire Council said: "Central Bedfordshire Council is honoured to have contributed half of the funding for Willow Grove Primary.
"From September, it will serve as a cornerstone of the Wixams community and, straddling the boundaries of Central Bedfordshire and Bedford Borough, it symbolises the two councils' shared dedication to providing quality education to children.
"Together, we have taken significant steps towards shaping education for young people in this part of Bedfordshire, which will help forge a future where children can thrive, learn, and grow."
Sean Conneely, director at Pick Everard, said; "We're proud of the collaboration that will help fulfil the educational needs of pupils in the area, as well as the significant value the project will deliver to local communities too.
"Having provided project management, cost management, NEC supervisor, health and safety services, it's a perfect example of a scheme that underpins our ethos to deliver better together and we look forward to continuing our collaboration with the wider team as the next build phase progresses with completion in August 2024."
Chris Tredget, Managing Director at Willmott Dixon said: "We're delighted to be involved in the collaborative process of delivering this high-quality facility for the school, which will allow them to expand in line with the anticipated growth of Wixams providing fantastic facilities to ensure the best possible educational experience for local children.
"Since 2012, we've completed over 15 other school projects for Bedford Borough Council and completed several schools for Central Bedfordshire Council in that time, so it is fantastic to be on site continuing this."
To apply for a place at the new school, visit https://www.willowgrove.school/admissions/.
Related news