Image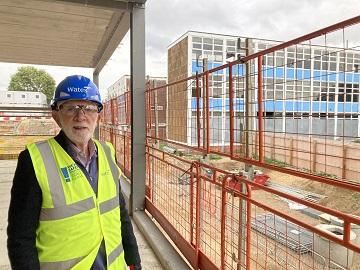 A former headteacher has spoken of his pride at seeing the work progress at the new SEN school being built in Kempston.
Frank McMahon was headteacher at Robert Bruce Middle School for 15 years before his retirement in 2005. Robert Bruce closed 10 years later – but the new school, on the site of the old Robert Bruce Middle School, will be one of the largest SEN facilities in the country.
Mr McMahon recently visited the site to see how work is progressing to create a new school for 200 students pupils aged 2-19 with special educational needs, including children with physical disabilities, those on the autistic spectrum, and those with severe learning disabilities.
He said: "It's a real mix of emotions being here today.
"There's a sadness that the old school, all of the resources, and the quality of education that we gave is no longer there. I constantly see former pupils and get told how much they enjoyed their time at Robert Bruce. There's a really strong bond between pupils and staff, across the generations.
"But on the other hand, I can see that this new school is like a phoenix from the ashes, which is going to be a fantastic facility."
The new school has been funded in conjunction with the Department For Education (DfE) and is due to open in phases from September 2024.
Bedford Borough has seen an 18% increase in the number of children attending SEN schools in the last four years.
Mr McMahon added: "I've always had a soft spot for SEN. A mark of how a school should be run is how much they support the children who most need support. That's something that is really being embraced with creating this new school.
"The memories of Robert Bruce, and all the good times, won't disappear. But new memories will be created here."
Robert Bruce Middle School originally opened as Kempston Senior Council School in 1928. Over its nearly 100 years it was also known as Kempston County Secondary Modern School and Robert Bruce County Secondary Modern School. It moved to its final site, off Hillgrounds Road, in the early 1960s.
Mayor of Bedford Borough Tom Wootton said: "People like Frank have always been crucial to the many fantastic schools we have across the borough. I was delighted he was able to be here today and see the progress we're making.
"I signed off to begin construction on this new school on my first day as mayor after being elected. Schools, education, and SEN, are absolutely crucial to the borough's future and I'm excited to see how the work continues to progress."
Related news