Image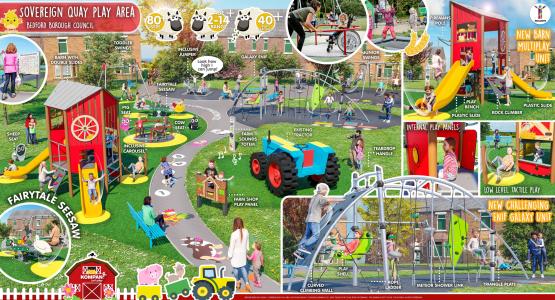 Bedford Borough Council is set to deliver another ambitious refurbishment of two popular local playgrounds, Priory Country Park and Commercial Road (also known as Sovereign's Quay).
These new upgrades will provide improved recreational spaces for children of all ages and abilities, aligning with the council's commitment to creating inclusive and engaging community environments.
The works are being delivered as part of the £1.5m Riverside for All project, which includes plans for the refurbishment of playgrounds, additional planting, footpath repairs, Longholme Lake improvements, new signage and refurbishment to infrastructure along the riverside, incorporating investment from other projects at the same time.
The Priory Country Park playground is set to receive a transformative makeover. Inspired by the beauty of the park's surroundings, the theme of the new design is "nature". In response to feedback from the community, the upgrade will cater to a wider age range, offering an inclusive space for toddlers through to juniors.
The Commercial Road Playground will undergo a refurbishment focused around a "farmyard" theme to tie in with the iconic tractor, which will remain in place. To ensure accessibility for all, the loose fill surfacing will be replaced with a more user-friendly alternative, making the playground an enjoyable space for children of varying abilities to safely play and create lasting memories.
Cllr Jim Weir, Cabinet Member for Environment, said, "These refurbishments are poised to bring new, exciting and stimulating play equipment to children of all ages and abilities. Our aim is to create spaces for families that allow children to be active at the same time as exercising their imaginations while they learn and discover.
"Whilst listening to customer feedback, we have designed these playgrounds to promote a more inclusive play experience for a wider age range. We hope that the community and visitors to Bedford will enjoy these spaces for many years to come."
Works for the refurbishment of both playgrounds are scheduled to commence during the week commencing Monday 4 September 2023.