Image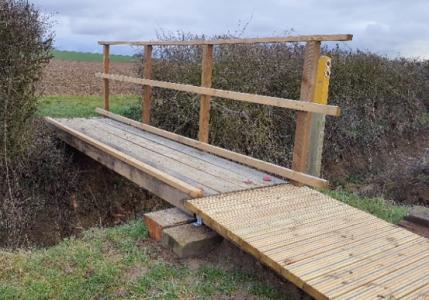 Mayor of Bedford Borough, Dave Hodgson has paid tribute to volunteers who have been working with the council to improve footpaths and the rights of way network across Bedford Borough. The works have seen improved bridges, stiles, steps, handrails, and byways. Over the past several months, the Council has been working tirelessly to refurbish and replace 20 of the most important bridges, install new gates to replace old stiles, and clear the byways of any debris or obstructions.
As part of the project, the Council also installed 20 metal finger posts to help guide visitors along the various trails and pathways in the area. Furthermore 80 new waymark posts have been installed, many by the dedicated volunteer team from the Ramblers Association. These new posts will make it easier for visitors to navigate the various paths and trails in the area, providing a more enjoyable and safer experience for all.
Mayor Dave said, "We believe that these improvements will have a significant impact on the quality of life in our community, providing safer and more reliable access to the many beautiful natural areas in the area.
"I would also like to extend my sincere thanks to The Ripple Team from the Ramblers Association for their invaluable support throughout this project. The team provided much-needed assistance with clearing vegetation and installing new waymark posts across the Borough. 
"We are grateful for all the volunteers working on our local Right of Way network and their ongoing commitment to our community and their willingness to lend their time and expertise to help us improve the quality of our natural areas."