Image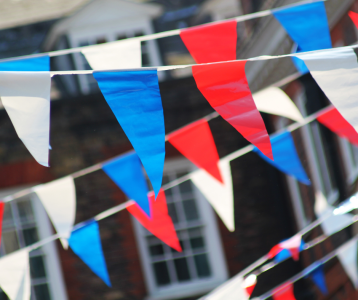 To celebrate the Coronation of His Majesty King Charles III, Bedford Borough Council are supporting residents and community groups who would like to host street parties to mark this event.
The Coronation is taking place on Saturday 6 May 2023, and there will be a weekend of celebrations, including the Big Lunch on Sunday 7 May and the Big Help Out on Monday 8 May.
Residents and community groups can now apply to hold a street party on 6, 7 or 8 May. We want to provide as much support as possible for community-led events, so we are waiving our fees and will provide practical advice to guide you through the process of planning your Coronation street party.
For anyone wishing to hold a street party over the extended bank holiday weekend, the Council asks that applications are submitted by 1 April 2023. Residents can email road.closures@bedford.gov.uk to request a street closure.
Mayor Dave Hodgson said "The Coronation of King Charles III is going to be a very special national event, and we want as many people as possible to take part in the celebrations. Street parties are a fantastic way for communities to gather together, and celebrate the Coronation over this long bank holiday weekend. I'm delighted we have been able to waive the application fee for holding a street party, enabling people to close their street for the day and come together, celebrating right on their doorsteps with neighbours, friends and families."
For guidance including tips, ideas, advice and support on organising a street party, you can visit www.gov.uk.
The waiving of street party fees applies to residents of residential streets only, it does not apply to traders seeking to close high streets.
Related news