Image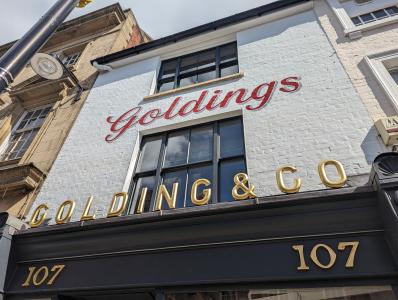 Works to reinstate the traditional shopfront and iconic lettering on the Goldings building, located on Bedford High Street, have now finished.
The works, which started in 2022, include repairs to the second-floor window, reinstatement of the window on the first floor, a renewed colour scheme for the renowned painted letters on the front façade and installation of bespoke traditional gold 3D lettering above the fascia.
Initial plans to finish works to the Goldings building last year were delayed after contractors discovered damage to the roof of the property, which needed to be repaired.
The improvements were delivered as part of the Bedford High Street Heritage Action Zone, a joint project between Bedford Borough Council and Historic England, in partnership with BedfordBID and SEMLEP. It aims to celebrate the town's unique cultural and architectural heritage, promote investment and economic growth through a programme of building improvements, and encourage local people and visitors to spend time in the centre of Bedford.
A Bedford Borough Council spokesperson said, "The High Street Heritage Action Zone project has allowed us to transform Bedford High Street by investing in our historic buildings and providing high-quality spaces for our businesses. We know the property owners have exciting plans for this restored historic space and we look forward to seeing the premises back in use."
Samantha Laycock, Chair of Bedford BID, said: "We are delighted to see that the heritage works on the iconic Goldings building have come to a close under the HSHAZ scheme. The Goldings building holds a special place in the memories of local residents and it is wonderful to see it improved to such a high standard.
"We would like to thank everyone involved in the project, from the architects to the construction workers and everyone in between. I am sure that the people of Bedford Borough will enjoy the renewed beauty and history of the Goldings building for generations to come."
Excellent progress is being made on the other properties currently undergoing works as part of the Bedford HSHAZ. With the works at The Medic Clinic finishing soon, improvements to the Salvation Army making good headway and wooden boards now erected outside of All Ears, it's an exciting time for Bedford High Street.