Image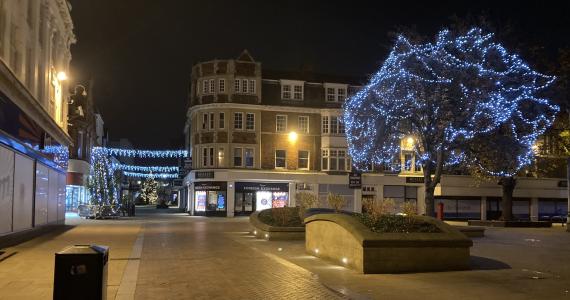 Bedford Borough Council and BedfordBID, in collaboration with a host of local organisations and businesses, are thrilled to unveil an array of festive events and activities for Christmas 2023. This year's plans promise a joyful celebration for people of all ages, featuring festive activities, seasonal events and a generous helping of Christmas spirit.
This year, Christmas in Bedford Borough is set to be even more magical with new elements added to the festivities, including in Bedford town centre where there will be brand new Christmas lights and trees lighting up the town, as well as Christmas music playing across the area while you shop.
Immerse yourself in the Christmas spirit with a broad spectrum of live performances taking place in Harpur Square in Bedford and Saxon Square in Kempston that are sure to bring the festive feeling to your weekend. Supported by the UK government through the UK Shared Prosperity Fund, this programme offers grant funding for performers of all types, which can be applied for by visiting www.bedford.gov.uk/Christmas
And remember, free parking is available at Allhallows Multi-Storey Car Park for up to four hours every week until February 2024. Sundays are extra special with free parking all day, thanks to our town-wide initiative.
Councillor Andrea Spice, Portfolio Holder for Town Centres and Planning said, "We are thrilled to bring the magic of Christmas to Bedford Borough with a fantastic range of new experiences and people's favourite traditions. From new Christmas lights illuminating the town centre, to our new free parking initiative in Allhallows Car Park, we've listened to what you want to see to make sure this Christmas is a memorable one, for residents, for businesses and for families."
Mark your calendars for the Bedford Town Centre Christmas Light Switch On in Harpur Square, on Saturday 25 November from 12pm to 6pm. This Christmas celebration will be brimming with live music, dance performances, fantastic food and beverages for all ages, and a unique seasonal market. The grand illumination of Bedford's new Christmas lights is set for 5pm, but arriving early to immerse yourself in the joyful atmosphere. 
You can make an afternoon of it from 12noon and enjoy the family festivities. Christmas Crazy Golf takes place on Silver Square for free and have your group or family photo taken in the Christmas Snow Globe.  Look out for Santa, the jolly man himself will make an appearance at the Harpur Centre. The Love Bedford Stage in Harpur Square will be live from 12noon with local singers, school choirs and dancers entertaining us all day. At 4pm The wonderful songstress Lissie Allsopp will take to the stage to entertain us with a collection of Christmas favourites to get us all in the festive mood.
At 5pm Mayor Tom Wootton will press the button to illuminate Bedford and we'll all join Lissie with a sing-a-long to some favourite Christmas tunes. Afterwards DJ Tom will spin some classic Christmas anthems to keep the party going.
Refreshments will be available on Harpur Square, plus there will be offers and discounts for you to enjoy at our town centre hospitality establishments.
Sponsored by BedfordBID, funded by town centre businesses, Director Christina Rowe says, "This is a crucial time of year for town centre businesses, and we are delighted to work collaboratively with partners to bring together a programme of special events designed to both showcase the local shops and services which contribute to Bedford's identity but also contribute to a welcoming environment. The Christmas lights enhancements paid for by the businesses along with the Christmas window dressing competition will also help to add some special festive cheer both during the day and into the evening."
Kempston light switch on takes place on Sunday 26 November. Join us from 12pm to 6pm as Kempston Town Council host the Kempston Christmas Light Switch On at the Saxon Centre. There will be Family fun with stalls, food and entertainment. The Christmas tree lights will be switched on at 5pm.
Don't miss the Very Merry Bedford Christmas Market Weekender on Saturday 2 and Sunday 3 December. Brought to you by Bedford BID, the Bedford Flea, Affordable Art & Local Produce Market team and Bedford Borough Council, this two-day celebration includes live music, mouth-watering street food, mulled wine, antiques, vintage items, art, crafts, and the much-anticipated return of the free Love Bedford Express Land Train. There will be festive markets in Harpur Square, Riverside Square, and the Harpur Suite where you'll discover unique finds and seasonal delights.
There will also be a full program of fantastic family activities during the festive period as part of the Council's commitment to make Bedford Borough a great place for families. Bedford Central Library and The Higgins Bedford will be hosting various events, including 'Write a Letter to Santa,' Sunday Funday activity days, crafting sessions, 'Story time with Santa,' Christmas games day, and the opportunity to decorate and collect bags of enchanting reindeer dust.
For full details, including times and dates of these fantastic events and even more, visit www.bedford.gov.uk/Christmas.