Image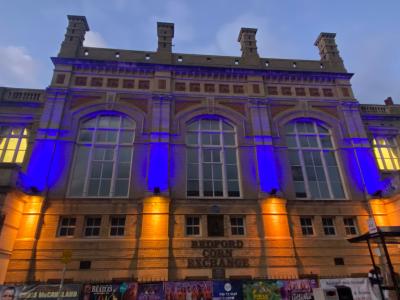 The Homes for Ukraine scheme launched in March 2022 and since then generous Bedford Borough residents have shared space in their homes with over 400 Ukrainian refugees.
The scheme has also supported Ukrainian nationals to find their own accommodation, employment and training opportunities, vital support services and educational provision, which have helped to make a real difference to the lives of those fleeing the war in Ukraine.
Residents from across the Borough have talked about the life-changing experience they have had while taking part in the Homes for Ukraine scheme.
Rachael is a Bedford Borough resident who is supporting a Ukrainian couple and their three-year old son.
Speaking of her experience, Rachael said: "In March 2022, me and my family took the big (but very rewarding) decision of taking a Ukrainian family into our house. We knew this would be a big change, but we had to do something for those who really needed help. They arrived in June and we enjoyed sharing our different cultures, experiences and ways of life. You feel very connected to them, settling them into a new country and their new home, you end up creating a very special bond, one that will last forever. You help them out in so many different ways, it's a real eye opener, but so rewarding. Sharing my washing machine wasn't half as stressful as I thought it was going to be, you just work things out around the house and it all slots into place.
"We are getting great support from the Government and local authority; there is a wonderful team on hand if either family ever need help, information or advice.
"Giving our Ukrainian family the security of a safe home, with no danger was the best decision of our lives. So if you are thinking about becoming a host, go for it!"
Chris and Sarah also live in Bedford Borough and have been sponsoring two adult guests for ten months now.
On their experience of the scheme, they said: "After Russia invaded Ukraine, we felt compelled to do something to help the people fleeing the tragedy. We worked with a local network to link us with a family needing a home, and helped them apply for visas via the Homes for Ukraine scheme.
"There have been times when our guests have needed additional support and guidance, whether sorting bank accounts and phones early on or helping them find work afterwards. The resources available from local organizations including the Polish-British Integration Centre and Bedford Borough Council have been invaluable.
"Sharing our home with our guests has been straightforward. Their eating schedule is very different from ours, avoiding kitchen bottlenecks, and we've been able to give them their own bathroom. Any extra costs we've incurred have been covered by the monthly payments from Bedford Borough Council.
"We're also lucky in having support from our family and friends, who have helped welcome our guests. We have learned so much about Ukrainian culture and practices, got new perspectives on the world and we've made two new friends.
"We hope the war ends soon for their sake, but we are very happy for them to stay with us as long as they need to."
Dave Hodgson, Elected Mayor of Bedford Borough, said: "The Homes for Ukraine scheme has been tremendously popular in Bedford Borough and has once again highlighted the generosity and caring nature of residents. We have already provided homes to over 400 Ukrainian refugees and have heard some truly heart-warming experiences from those taking part.
"If you have a spare room in your home and want to open it up to a Ukrainian refugee, our support teams will be with you every step of the way to help ease any worries and make the transition as straightforward as possible."  
Those who sign up to the Homes for Ukraine scheme will receive a monthly 'Thank You' payment of £500 from Bedford Borough Council. The payments are tax-free and do not affect entitlement to benefits or Council Tax discounts.
If you would like to sign-up to take part in the Homes for Ukraine scheme, you can visit www.bedford.gov.uk/Ukraine to find out more and apply.