Image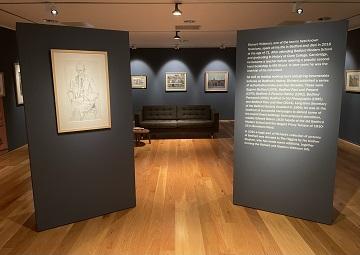 Bedford Borough Council is proud to announce the upcoming 'We Are Ten' exhibition at The Higgins Bedford. It celebrates ten years since the major redevelopment of our local museum and art gallery.
The free exhibition opens on Saturday 27 May 2023 and runs until Saturday 28 January 2024. It showcases the favourite artworks of various community groups, organisations and individuals who have worked with The Higgins Bedford over the last decade. This includes a mix of both old favourites and rarely shown works, resulting in a vibrant display of paintings and prints for all to enjoy.
To mark the ten-year anniversary, there will be two free tours available on Wednesday 21 June, ten years to the day The Higgins Bedford first opened its doors. Places are limited and so people will need to book in advance to be able to take part.
Tour one will be 12.30pm – 1pm with Victoria, Keeper of Fine and Decorative Art, allowing people to discover the highlights of the community exhibition in the Wixamtree Gallery.
Tour two will be 2pm – 2.30pm with Lydia, Keeper of Social History, taking a guided walk through the Richard Wildman collection of local scenes in the Connections Gallery.
Elected Mayor of Bedford Borough, Tom Wootton, said, "It's fantastic to be celebrating ten years of The Higgins Bedford and highlight some of the favourite artworks of people that have worked with the team over the last decade.
"We are really lucky to have such a place in Bedford Borough for residents, schools, and visitors to visit and enjoy, I'm very much hoping to attend a tour myself."
The 'We Are Ten' exhibition will be spread across two galleries in The Higgins Bedford. In the first gallery, visitors will be able to view the choices of Richard Wildman and his brother Stephen. Richard was one of the town's best-known historians and protector of some of its finest buildings. After his death in 2018, his brother generously donated a large part of Richard's collection of pictures to The Higgins Bedford, as well as additional works from his own collection. You will find written memories alongside the pictures from those who knew Richard best.
In the second gallery, people who have worked with The Higgins Bedford were asked to choose any picture they liked and then explain their choice in their own words.  It demonstrates the belief that art can inspire, bring back memories and stir emotions. Works by 40 artists were chosen and include Chagall, Turner, Rossetti, Hockney, Burra, Rego, Stannard, Blake and Bawden.
In 2013 The Higgins Bedford opened its doors following an extensive refurbishment that united the Cecil Higgins Art Gallery and Bedford Museum.  
Book a place on a tour and find more information about the exhibition at www.thehigginsbedford.org.uk.
Related news