Image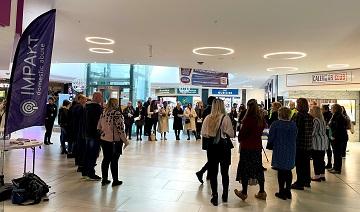 Bedford Borough Council, in partnership with the Bedfordshire Domestic Abuse Partnership, invites the community to stand united against gender-based violence with two events on Friday 1 December. Firstly there is the daytime #TooManyNames event and then in the evening people can join the Gathering By Torchlight event. These events are part of the international 16 Days of Action campaign, which aims to raise awareness and end all forms of domestic abuse, including violence against women and girls, intimate partner abuse, and family abuse.
There will be three #TooManyNames events held simultaneously at sites in Bedfordshire:
Town Hall, George Street, Luton (outside Town Hall steps)
Grove House Gardens, Dunstable Town Centre (outside by the bandstand)
Harpur Centre, Bedford Town Centre (inside)
The event will commence at 10.30am and conclude at 11am, with a minute of silence to honour the women who lost their lives through male violence in the past year. Everyone is welcome to join the event, help raise awareness, and highlight the issue of violence against women and girls. There is no need to book, and local and national support resources will be available on-site for those affected by gender violence issues.
The Gathering By Torchlight event will take place at King's House, 245 Ampthill Rd, Bedford, MK42 9AZ, from 5pm to 6.30pm. This event aims to bring domestic abuse out of the darkness by illuminating torches (or mobile phones), symbolising hope and support for all those affected by domestic violence. The event welcomes everyone and offers free parking, a café, and a chance to learn about local services. Attendees will also have the opportunity to enjoy original creative works and performances by local groups.
Councillor Phillippa Martin-Moran-Bryant, Portfolio Holder for Community Safety, Regulatory Services, and Housing, expressed their support for these initiatives, stating, "The #TooManyNames event and Gathering By Torchlight are powerful symbols of our community's commitment to ending gender-based violence. By joining these events, we stand together to raise awareness, support survivors, and challenge the harmful behaviours causing harm in our society.
"It is everyone's responsibility to ensure a safe environment for all, and I encourage everyone to attend these events and show their solidarity against domestic abuse"
The 16 Days of Action campaign, running from November 25, the International Day for the Elimination of Violence against Women to December 10, Human Rights Day. It runs alongside the United Nations Secretary-General's campaign, 'UNITE by 2030 to End Violence against Women.'
For event details and local resources for any kind of domestic violence, please visit the Bedfordshire Domestic Abuse Partnership website at www.bedsdv.org.uk and follow them on social media.