Image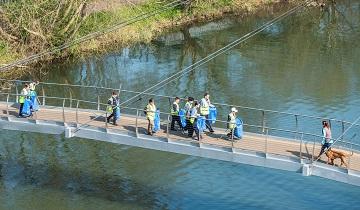 Bedford Borough Council is planning a community Rivercare Clean Up event and is inviting local residents to join in with a litter pick on Saturday October 7, between 10am and 12pm. Volunteers are asked to meet at the back of the Bedford Borough Hall car park, alongside the river.
Jim Weir, Portfolio Holder for Environment, Highways and Transport, expressed his enthusiasm for the event, saying, "Our riverside is a valuable asset to our community and it's our collective responsibility to ensure it remains clean and vibrant. We are inviting all residents to come together for this event, show their community pride, and make a positive impact on our local environment."
The clean up will involve volunteers litter picking along the riverside, supported by scuba divers in the river and kayakers assisting in clearing the banks. The iconic John Bunyan Boat will also be on hand to provide refreshments, adding an extra layer of community camaraderie to the event.
No special equipment is required to participate as Bedford Borough Council will provide all necessary tools and materials. Volunteers are advised to wear suitable clothing and sturdy boots. The meeting point for the litter pick is at the back of Borough Hall, located at Cauldwell Street, Bedford, MK42 9AP, right by the river.
Additionally, free parking will be available on-site for all participants, making it convenient for everyone to get involved and contribute to the clean up effort.
This Rivercare Clean Up event represents an excellent opportunity for community members to come together, take pride in their local environment, and actively contribute to its preservation. Bedford Borough Council encourages residents of all ages to participate and help make a positive impact on the health and beauty of our riverside. All children will need to be accompanied by a parent or carer at all times.
For further information about the Riverside Clean Up event, please contact the Bedford Borough Council at volunteering@bedford.gov.uk.
Related news