Image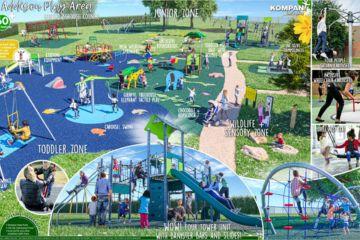 Bedford Borough Council invests £500k refurbishing local playgrounds.
Bedford Borough Council is making a significant investment of £500,000 in local play spaces, aimed at enhancing and improving playgrounds to make them more accessible and enjoyable for children of all ages and abilities. This refurbishment work is being funded through Council capital funds and demonstrates the Council's commitment to invest in Bedford's parks and open spaces, whilst creating vibrant, safe, and inclusive environments for families in the community.
The playground refurbishment project will cover Addison Howard Park in Kempston and Green Lane in Wixams, two popular recreational areas enjoyed by families throughout Bedford Borough. In addition to these exciting developments, ongoing works are already underway to improve surfacing at Russell Park playground in Bedford, providing a more accessible space for families to enjoy together.
Addison Howard Park will be transformed into a nature-themed haven, featuring a diverse range of play equipment suitable for children of all abilities and ages. This carefully designed space aims to inspire creativity and foster a love for nature, making it an ideal playground for families seeking outdoor adventures. Work is planned to start on Monday 20 November 2023.
Green Lane in Wixams will boast a transport-themed toddler area, capturing the imagination of young ones with its innovative design. The remaining areas of the playground have been carefully planned to harmonise with the surrounding green environment. Green Lane will be a hub of excitement and learning for children of all ages and abilities in the community. Work is planned to start on Thursday 16 November.
Jim Weir, Portfolio Holder for Environment, Highways, and Transport at Bedford Borough Council, expressed enthusiasm about the playground refurbishments, stating, "We are delighted to invest in these essential playground upgrades, ensuring that our children have access to high-quality play spaces that promote physical activity, social interaction, and imaginative play.
"By creating inclusive environments at Addison Howard Park, Green Lane and Russell Park, we aim to provide families with enjoyable, safe, and stimulating places for their children to explore and grow."
The Council encourages parents and families to look forward to the completion of these projects, which will not only beautify the local landscape but also provide children with enriching experiences that contribute to their physical, social, and emotional development. Learn more about parks and open spaces in Bedford Borough at www.bedford.gov.uk/leisure-parks-and-sport/parks-and-open-spaces.
Related news