Image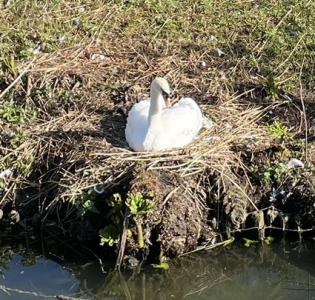 With the warmer weather approaching it's great to see more dog owners enjoying our local parks and green spaces. However, it is important to remember that this is also a critical time for many species of nesting birds. Bedford Borough Council is urging residents to take extra care when walking dogs in areas where nesting birds may be present.
A Bedford Borough spokesperson, said, "Nesting birds, especially those nesting on the ground, such as swans, are particularly vulnerable to disturbance from dogs. If dogs are not kept on leads, they may inadvertently disturb or harm the birds, causing them to abandon their nests or leaving their young vulnerable to predators.
"We were disappointed to hear that a swan was recently attacked by a loose dog in Mill Meadows, Bedford, near to its nesting partner. This resulted in nasty injuries that required treatment and antibiotics. Fortunately, this swan is now back with its partner."
They added, "We would like to remind residents that a dog may be considered dangerously out of control if it injures a person or another animal, or causes someone fear or apprehension that they may be injured.
"It is against the law for a dog to be dangerously out of control anywhere. If it is, legal action can be taken against the owner and the person who was in charge of the dog at the time."
Residents are encouraged to enjoy spending time in outdoor public spaces with their dogs, however, it is important that we all take responsibility for protecting our local wildlife. Keeping dogs on leads near nesting birds is a crucial part of this.
There are some areas in Bedford Borough where a Public Spaces Protection Order (PSPO) means that dogs are excluded, required to be on a lead, or other measures are in place. These can be found at www.bedford.gov.uk/environmental-issues/dog-control-and-welfare/dog-control-orders.
Further information about dog control and welfare in Bedford Borough is available at; www.bedford.gov.uk/environmental-issues/dog-control-and-welfare.
Related news