Image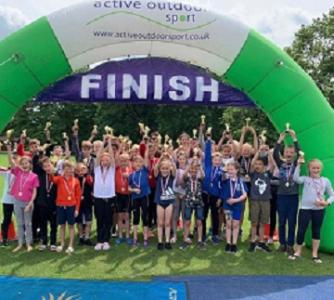 Sunday 15 October will see the Bedford Junior Aquathlon return to Bedford Park and Robinson Pool. The event is a continuous swim and run event for children in school years 3 to 11 with different distances for each age group.
There is a staggered start with each child starting at the pool side thirty seconds after the previous participant. They swim their allocated distance, put on their running clothes as soon as they get out the pool, then leave through the fire exit to run around Bedford Park. The clock runs from the start right through to the time that they cross the finish line.
Every child that takes part will receive a medal and there will be awards made on the day for the boys and girls that finish first, second and third places from each year group. Individual results will be emailed to each participant on Monday 16 October.
Councillor Sarah Gallagher, Portfolio Holder for Leisure and Culture, said, "This is a lovely opportunity for families to cheer on their children as they run around our beautiful Bedford Park.
"Each year the Bedford Junior Aquathlon sees over a hundred children take part and it's wonderful that every single one of them receives a medal for completing the course."
Distances vary from a 66 metre swim and 600 metre run for those in Year 3 up to a 400 metre swim and 2.8 kilometre run for those in Years 10 and 11. The running routes take the children around small or large loops around Bedford Park on grass and surfaced paths.
When completing the entry form participants will be asking for an estimated time for their swim. This allows children to be started in order of fastest to slowest and will help reduce any overtaking in the pool which makes it easier for the swimmers.
Entries are just £8 per child and the deadline for online entry forms is 5pm on Tuesday 4 October. To find out more and register to take part, please visit www.bedford.gov.uk/aquathlon. No entries can be accepted on the day of the event.
Children taking part will need a swim suit or swim shorts and a towel for the swim, goggles can be worn if children want to. For the run, they will need a t-shirt, shorts/trousers/leggings/tracksuit trousers and trainers, which can be placed at the pool side before they start. They will also need to bring a drink to keep themselves hydrated.
Related news