Image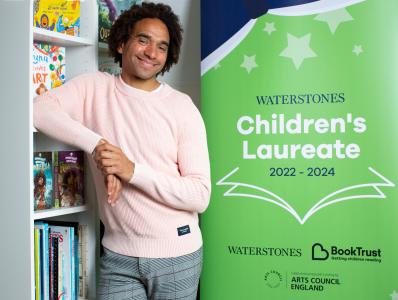 Children's Laureate, Joseph Coelho, will visit Kempston Library
Bedford Borough Libraries is excited to welcome an award winning performance poet and children's author to one of its libraries. Following a previous postponement, Joseph Coelho, the Waterstones Children's Laureate will now visit Kempston Library on Monday 20 February, 1pm to 2:15pm. He will be signing up for a library card and speaking to visitors and staff, everyone is welcome to attend. Joseph will be speaking to visitors and performing some of his poetry. A class from a local school will also be at the event.
At his appointment Joseph shared his personal mission to join one library in every authority across the UK. This ambitious plan to champion local libraries and the vital role they play within the community began in 2019. It was put on hold due to the Covid pandemic and has since continued. The award-winning performance poet, playwright, and children's author has less than 70 libraries left to visit, with Kempston Library next on his list.
Councillor Doug McMurdo, Portfolio Holder for Leisure and Culture, said, "It's fantastic that the Waterstones Children's Laureate has chosen to visit Kempston Library and perform for visitors.
"I encourage anyone that is available to visit and enjoy his performance."
The 'Library Marathon' is one of three major initiatives announced by the current Waterstones Children's Laureate. They are managed by BookTrust, the UK's largest children's reading charity. Coelho's other campaigns include the 'Poetry Prompts' and 'Bookmaker Like You'. 'Poetry Prompts' is a weekly online series celebrating the power of poetry in all its forms. 'Bookmaker Like You' aims to showcase a diversity of new talent within the book industry so that every child can see themselves as a bookmaker.
Call Kempston Library on 01234 276453 for more information about the event. Find out more about the Waterstones Children's Laureate programme at www.booktrust.org.uk/childrens-laureate.
Discover how to join Bedford Borough Libraries and learn all about the resources and activities available for you and your family at www.bedford.gov.uk/libraries.
Related news