Image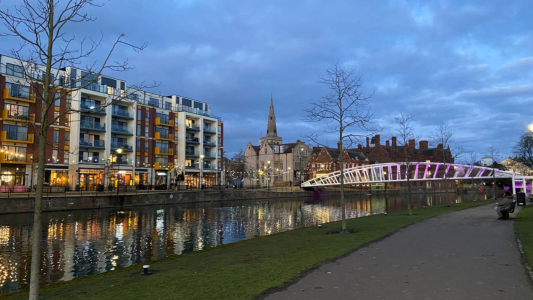 Bedford Borough Council have today announced further details of a major project improving and developing links alongside the Great Ouse from Priory Country Park to Kempston Outdoor Centre.
Developed following the Town Centre Consultation, and post-Covid, plans include refurbishment of playgrounds, planting projects, footpath repairs, improvements to Longholme Lake, new signage, and refurbishment to infrastructure along the riverside, incorporating investment from other projects at the same time. 
Mayor of Bedford Borough, Dave Hodgson, said, "The Great Ouse riverside is for everyone, and the Riverside for All project - which started with the refreshing and renewing of the Embankment surface ahead of last year's River Festival - will help enable even more people to enjoy our riverside.
"From the refurbishment of Commercial Road and Priory Country Playgrounds and a new outdoor gym area on Mill Meadows, this project will deliver something for everyone and help continue to focus on health and wellbeing through the riverside open space. I am looking forward to the work being completed."
Councillor Henry Vann, Portfolio Holder Town Centres and Planning, added, "Bedford's greatest asset is its riverside - the Great Ouse draws people in from across the country and one of our major town centre plan objectives was to improve the links, signage and routes between the river and our town centre.
"Along with the great work on our play areas, we are also investing in new signage, dropped kerbs, improved accessibility of our footpaths and additional CCTV and lighting. These enhancements follow in a long tradition of our ever improving riverside and we will continue to invest in Bedford town centre and ensure it is a great place for people to live, work and stay."
Christina Rowe, Director of BedfordBID, said, "These improvements I am sure will be welcomed by local businesses. It's another welcome step towards improving the town and showing off Bedford's jewel in the crown, especially in the current economic environment."
Related news