Image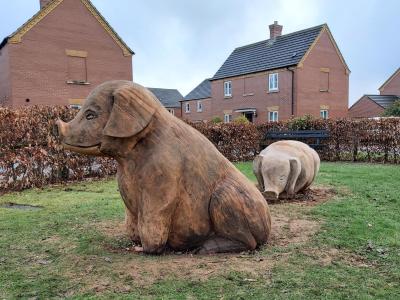 As part of a joint project with Brickhill Parish Council, Bedford Borough Council have replaced and refurbished the wooden pig sculptures located at the Crispin Drive Playground on the Woodlands development.
The original sculptures were installed over 10 years ago when the Woodlands development was being built. They have since become a popular feature with the local community but unfortunately one pig particularly had rotted badly over time and both were due for refurbishment.
The project, which was funded by bpha after Brickhill Parish Council's recommendation, has included the refurbishment of one of the original pigs to restore it to its former glory and replacing the other altogether.
Dave Hodgson, Elected Mayor of Bedford Borough, said: "I'm glad we could collaborate with Brickhill Parish Council and bpha to improve the Woodlands development by restoring and replacing these well-loved features for residents in the area to enjoy. The new wooden pigs will be available for all to enjoy at the Crispin Drive playground if you would like to see them in person." 
Mark Fitzpatrick, Chairman of Brickhill Parish Council, said: "the 'pig park' is a central part of Woodlands Park, as well as a fun play space for younger children. I am really pleased that together we have restored them."
The wooden pigs can be found at Crispin Drive, Bedford, MK41 7FS.