Image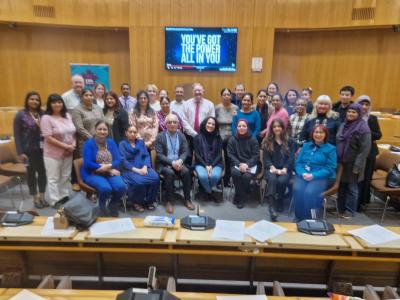 In March 2023, Bedford Borough Council held a celebration event at Borough Hall to recognise the achievements of learners who have been through the English for Speakers of Other Languages (ESOL) advice service.
The ESOL advice service helps learners to overcome barriers that prevent people from learning English and access free English language classes.
The people being celebrated at the event included employees from Bedford Borough Council and Bedford Hospital, as well as high-level ESOL learners, who were joined by senior staff from both organisations. Many of the previous learners who have been through the service are now looking to apply for new jobs and opportunities.
A Bedford Borough Council spokesperson said: "The ESOL service is making a huge difference to the lives of our learners and it's fantastic to see so many learners who have used the service to go on to take new and exciting steps both professionally and socially.
"It is so important that people are equipped to access essential services, so it has also been great to work alongside Bedfordshire Police and Bedfordshire Fire & Rescue, who have been delivering engaging ESOL-friendly presentations to our learners about their services and how they can be used."
Jingwei Luo is a software test engineer who is currently using the ESOL advice service. On his experience so far, he said: "I really love the ESOL class - the atmosphere is very comfortable, inspiring and encouraging. Everyone is treated equally and respectfully, and I believe that everyone can get something useful out of it. After only attending five classes, my English has improved so much and I feel happier and more optimistic about everything, so I truly appreciate Bedford Borough Council for giving me the opportunity to learn English."
David Lynch, Area Community Safety Officer at Bedfordshire Fire and Rescue Service, said: "We have found the work in partnership with ESOL invaluable. Where English isn't used as a first language, it may be difficult for those people to know where to seek support. As a Fire Service we want to educate every member in our community on home fire safety, so they know how to get help in an emergency and understand what Bedfordshire Fire and Rescue Service can do to support them.
"We've been able to attend ESOL classes facilitated by ACCM and PBIC to engage with the students and educate on home fire safety. This helps us not only engage but also build rapport with communities that may not have approached us to begin with."
If you or someone you know would benefit from engaging with Bedford Borough Council's ESOL advice service, you can go online to their website to find out more.