Image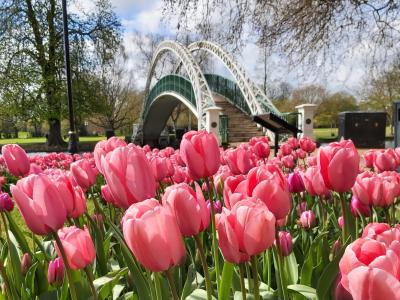 The flowers along The Embankment in Bedford are now in full bloom, leaving the picturesque area bursting with colour and vibrancy.
The Embankment, which runs along the River Great Ouse, is often referred to as the jewel in the crown of Bedford, with its tranquil atmosphere and beautiful views of the river. It is a popular spot for picnics and walks, with plenty of benches and seating areas available to take a break and soak up the atmosphere.
With the arrival of spring and the blooming of over 46,000 tulips, The Embankment has become even more enchanting, providing the perfect opportunity to enjoy a leisurely walk along the riverside and into Bedford Town Centre, while taking in the scenic surroundings.
A Bedford Borough Council spokesperson said: "We're incredibly proud of The Embankment and know how popular it is with residents and visitors alike. Our Parks and Open Spaces team work hard throughout the year to maintain the area and the stunning floral displays are a real testament to their hard work.
"If you haven't been for a walk along The Embankment since the flowers have bloomed, why not go enjoy a stroll by the riverside while taking in the idyllic views of the beautiful flora and fauna?"
You can also enjoy a guided walk of The Embankment to discover the history of the area while taking in the scenery. Find out more and book onto a tour at www.bedford.gov.uk/guidedwalks.