Image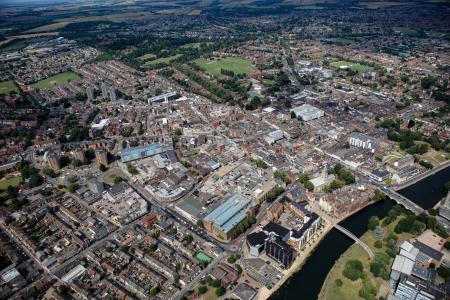 Bedford Borough Council and the Town Deal Board are inviting local residents to visit a series of upcoming open briefings that will give them an insight into the exciting Town Deal projects planned for the centre of Bedford.
The Bedford Town Deal projects are designed to deliver economic benefits while driving sustainable regeneration and productivity as part of the Town Investment Plan vision for Bedford.
The projects that the council plans to bring to life include, the regeneration of the Station Quarter and Midland Road area, public realm improvements to St. Paul's Square, improvements to town centre junctions and local pedestrian and cycling infrastructure. The investment in Bedford College's Cauldwell Street Campus redeveloping the tower block into a Health, Science and Digital Skills Centre is already underway.
These events will provide an opportunity for residents to learn more about the projects, their objectives, and the positive impacts they will have on the town centre. The events are taking place on three separate dates over the next month, with each at a different location:
The Higgins Bedford – Wednesday 1 March 2023, 11am to 2pm
The Harpur Centre – Thursday 9 March 2023, 11am to 2pm
Bedford Central Library – Wednesday 15 March 2023, 11am to 2pm
Samantha Laycock, Chair of Bedford Town Deal Board, said: "The Town Deal is going to make a real difference to Bedford by helping us to deliver an incredibly comprehensive package of projects that lead to positive change in the local area. These events will be a good chance for you to find out more about what the projects are and how they're helping us to bring meaningful improvements to our town and its residents.
"Be sure to stop by and discover more about the future of Bedford town centre under the Town Deal."
Councillor Henry Vann, Portfolio Holder for Town Centres and Planning at Bedford Borough Council, said: "This is all part of the inspiring and ambitious vision for the Town and Town Centre. We strongly encourage residents to attend one of the events to find out more about the future of the centre of Bedford and the exciting projects that we have planned.
"Bedford's Town Deal is bringing a significant amount of investment to our town and you can find out more about the already well-publicised schemes by popping along. This funding is helping us deliver major projects supporting skills, the public environment, and better transport options for residents, all as part of a Town Investment Plan for the future."
If you would like to attend one of the events, simply drop in on the day to find out more about the future of Bedford Town Centre.
To find out more about the projects planned under the Bedford Town Deal, visit www.bedford.gov.uk/TownDeal.
Related news