Image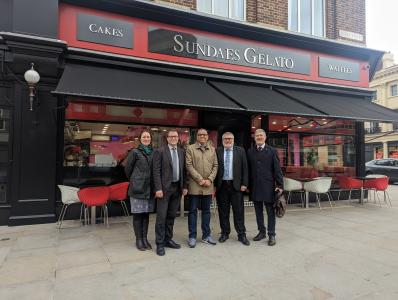 Yesterday (Thursday 23 February), Mayor Dave Hodgson, Councillor Henry Vann, Mohammad Yasin MP and Tony Calladine, East of England Regional Director at Historic England, visited Bedford High Street to see the works undertaken as part of the High Street Heritage Action Zone (HSHAZ) scheme.
The scheme is a joint initiative between Bedford Borough Council and Historic England. It aims to celebrate the area's unique cultural and architectural heritage, promote investment and economic growth through a programme of building improvements, and encourage local people and visitors to spend time in the centre of Bedford.
During the visit, the stakeholders saw the enhancements delivered at Blue Monk and Goldings before finishing at the recently improved Sundae's Gelato, which has been the scheme's flagship project. They also visited several sites currently scheduled or earmarked to go through a programme of works under the HSHAZ programme.
The visit to Bedford High Street was an opportunity for Historic England and others to witness first-hand the improvements that have been delivered and the benefits they are bringing to the local community and to discuss plans for the regeneration of the area.
Dave Hodgson, Elected Mayor of Bedford Borough, said: "The High Street Heritage Action Zone scheme has been a big benefit to Bedford. It has helped in the restoration of historic buildings and helped us share with residents the story of Bedford's local history and heritage.
"We are committed to delivering major infrastructure works and enhancements to Bedford High Street to make it better for our residents and businesses. We look forward to continuing our work with our partners to achieve this goal."
Councillor Henry Vann, who chairs the Steering Group as Portfolio Holder for Town Centres and Planning, said: "From the Blue Monk building which looks absolutely fantastic, to these stunning new business premises in Silver Square, the High Street Heritage Action Zone has been a great success. It has been great to see the work continue, and with more in the pipeline at Golding's and the Salvation Army building and more. The scheme has helped support existing businesses and some premises which were empty already have new tenants lined up, bringing extra investment to our High Street and helping Bedford buck the trend with a continuing lower than average vacancy rate."
Mohammad Yasin MP added: "Bedford is an historic town and we have a responsibility to build on our rich history. I am therefore delighted at the success of the High Street Heritage Action Zone scheme which has both restored historical buildings and supported local businesses. We must continue to support local businesses at every opportunity and I would encourage anyone who believes that they could benefit from this scheme to contact the Council."
Tony Calladine, East of England Regional Director for Historic England, said: "It's been wonderful to see the transformation that has taken place to these buildings and the positive impact that has had for people in Bedford. The Blue Monk building looks spectacular, and it's great to see restoration work at Goldings and the new business opportunities in Silver Square. This inspirational scheme shows how characterful historic buildings can make such a difference to the high street, bringing tangible benefits, encouraging growth, and celebrating local history. I'm looking forward to seeing further projects get underway in the High Street Heritage Action Zone this year."
Property owners on Bedford High Street can still sign-up to take part in the scheme by emailing Eleanor Karklas, Manager for Economic Growth & Development, for an informal conversation: Eleanor.Karklas@bedford.gov.uk.