Image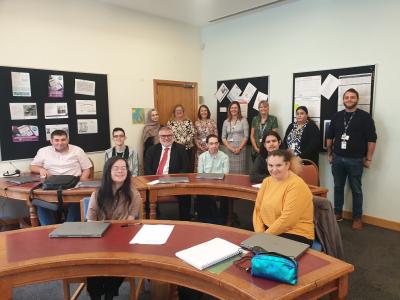 Bedford Borough Council, Bedford College and DFN Project SEARCH, a leading charity that supports young people with learning disabilities and autism to move into work, are pleased to announce the launch of a new supported internship programme in Bedford Borough (September 2022). 
This latest DFN Project SEARCH programme will be run in partnership with Bedford Borough Council, who will be the host employer, Bedford College as the education provider and licence holder, and Mencap, which is providing the job coaching element of the programme.
Up to 12 young adults will have the opportunity to sign up to get involved for the first year with the interns going on to complete three 10 week work experience placements within Bedford Borough Council.
DFN Project SEARCH works to build a more inclusive society by helping young people with learning disabilities and autism to access high quality work-related learning through immersive supported internships leading to a much improved opportunity to access long-term, full time paid employment.
Latest data from DFN Project SEARCH shows that in the past academic year 71% of interns secured a paid job. These outcomes are well beyond the national statistics which show just 5.6% of people with a learning disability known to local authorities are in work. Interns' average wage was higher than the minimum wage for all age groups, and those under 18 received 80% more than the minimum wage on average. 
The charity has ambitions to get 10,000 young adults with learning disabilities and autism into full-time paid jobs over the next decade and 20,000 in the next 15 years.
Dom and Luisa, whose son Romeo has enrolled said, "We believe Project SEARCH will provide an amazing and exciting opportunity to all the young students who have enrolled.
 "As parents, we hope this project will provide an ideal step and insight into the world of employment .
 "Our son Romeo is looking forward to this internship (as are we) which Bedford Borough Council is kindly supporting – thank you!
 "We understand this is the first year of the project and wish to thank all staff who have been involved for all of their hard work in setting this up and who will be supporting all students during this important transition into the adult world. We wish the project to be a great success and to give all students involved encouragement and a brighter future."
Dave Hodgson, Mayor of Bedford Borough said, "Bedford Borough Council is delighted to be part of the DFN Project SEARCH initiative. This fantastic programme will help young people in Bedford Borough gain vital experience in the workplace.  
"Young people with learning disabilities and autism can often find themselves unfairly excluded but this kind of on-the-job learning will go a long way to help provide opportunities in securing long-term, fulfilling paid employment."
Katrina O'Brien from The Bedford College Group said, "We are excited to be working in collaboration with Bedford Borough and Project SEARCH to provide outstanding opportunities for our students and the community that we serve. We are delighted to be able to support students to further develop their skills and knowledge through real life work experience with the aim of supporting them to gain paid outcomes. These students can now build on the skills they acquired previously while they were at Bedford College studying on the Foundation Skills Programme. Having progressed to Project SEARCH we are confident that this programme will provide them with the opportunity to fulfil their potential by building on their strengths, uncovering new interests and aspirations, and understanding how best to use the support available to them."
DFN Project SEARCH Director and Programme Specialist, Carmel McKeogh said, "It is really exciting to be working with Bedford Borough Council and Bedford College for our new DFN Project SEARCH programme Bedford Borough. There are so many skills and opportunities for the young people to learn inside such a diverse and inclusive business. The commitment to change the life chances of young people with learning disabilities and autism in the area is shared by all the partners in this great programme and we are really looking forward to have welcomed the first class of young people."
 You can learn more about DFN Project SEARCH at https://www.dfnprojectsearch.org/
Summary
Back row - Amira Amrouche (MENCAP), Tina Holt (Bedford Borough Council), Louise Smith (Bedford College), Katrina O'Brien (Bedford College), Karen Duggan (Bedford College), Amreen Khan (MENCAP), Karl Burke (Bedford College)
Middle row - Adam, Romeo, Mayor Dave Hodgson, Alfie, Marcus
Front row - Georgina, Chloe