Image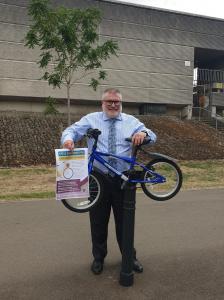 Mayor Dave Hodgson has announced an increase to the Homes for Ukraine payment and thanked local residents for their ongoing generosity and goodwill.
Bedford Borough residents who are kindly hosting Ukrainian refugees through the Homes for Ukraine scheme are already able to opt in to receive £350 per month as a 'Thank You' payment, which is administered by Bedford Borough Council.
The payment assists hosts with any additional costs that may be incurred and the Council is now adding a discretionary increase of £150. The addition funding comes from a special grant to help with the Homes for Ukraine scheme, taking the total up to £500 per household.
Dave Hodgson, Mayor of Bedford Borough, said: "We recognise that hosts may be facing additional pressures over the coming months due to the increases in the cost of living. To help with this, the Council is paying an additional £150 on top of the initial 'Thank You' payment for those that are hosting Ukrainian guests in the months of November to March.
"We also want to recognise the commitment of hosts who will be able to continue to accommodate their guests beyond the initial six months of the scheme, so we will also be making a one off payment of £500 to people who are still hosting their guests in March 2023."
The £150 payments and £500 payment are tax-free and should not affect entitlement to benefits or Council Tax status.
Dave Hodgson has also paid tribute to residents who have donated a bike under the Bikes for Ukraine scheme. In July this year, Bedford Borough Council put out a call for donations of old and unused bikes so that they could be given to Ukrainian families that have fled to Bedford Borough.
Since Russia's invasion of Ukraine, people in the Borough have provided homes to over 300 Ukrainians. Thanks to the generosity of local residents, the Council has received 161 bikes, which is enough to provide a bicycle to every Ukrainian refugee who has asked for one.
Mayor Dave Hodgson added, "I am so grateful to once again see the kindness and generosity of the residents of Bedford Borough, who time and again demonstrate their community spirit and willingness to help those who need it."
To find out more information on local and national support for Ukrainian refugees and the increased 'Thank You' payment, go online to www.bedford.gov.uk/Ukraine.