Image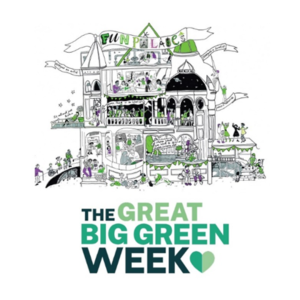 Great Big Green Fun Palaces brings together two brilliant National Events – The Great Big Green Week and Fun Palaces. Between 11am and 4pm enjoy hands-on activities, animal encounters and a chance to find out more about our local wildlife, how to support biodiversity, what geology can tell us about climate crisis and much more. There will be a plant stall run by The Higgins Garden Volunteers. This is a free event at The Higgins Bedford with activities suitable for everyone.
At Great Big Green Fun Palaces, you can take a close-up look at specimens and artefacts alongside volunteers from Bedfordshire Natural History Society and Bedfordshire Wildlife Trust. Discover a history of climate change through the rocks beneath our feet and see what the landscape tells us about changing sea levels in the geological past with Bedfordshire Geology Group.
Find some home grown bargains for your garden at the plants stall and meet local horticulturist Becky Almond, who will be able to help with your gardening questions.
You can also join Chris's Animal Encounters to meet some creatures from outside the Borough, including snakes and spiders. Places are limited for these close-up animal encounters. Sessions will be at 11.30am and 1.30pm. To book a place or for more information email gemma.hutton@bedford.gov.uk
Councillor Doug McMurdo, Portfolio Holder for Leisure and Culture, said: "Great Big Green Week and Fun Palace are both hugely popular with residents and visitors alike, so it's exciting to see them join together for Great Big Green Fun Palaces. If you're looking forward to the Animal Encounters, be sure to book in advance to avoid any disappointment on the day."
The Great Big Green Week will be celebrated nationally and locally, with many more events around Bedford Borough during the week 24th September – 2nd October. Check www.greatbiggreenweekbedford.co.uk for more events and listings.
Fun Palaces will be happening in towns up and down the UK during the weekend of 1st October with an aim to share skills, connect communities and create tiny revolutions. The Higgins Bedford has been a host to Fun Palaces for several years.