Image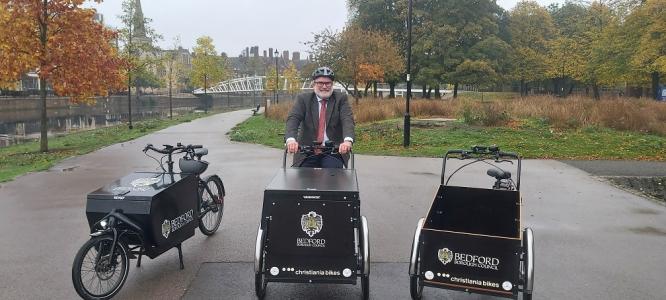 eCargo Bikes used by Bedford Borough Council have been a huge success having travelled over 1,800km.
Since being introduced in December 2020 the six eCargo bikes, purchased by the Council with Department of Transport funding, have travelled over 1,800km by several council teams and Flamme Rouge, saving approximately 200kg of CO2 compared to using a van for the same journeys.
The eCargo bikes have been used by the Council's Sustainable Transport Team weekly to transport materials to schools and run events. The Council's Parks and Open Spaces and Tree Inspection Teams have found the bikes particularly useful as it is easier to access the majority of their sites via bike rather than car. One eCargo bike has been well used by Flamme Rouge to collect supplies from the wholesalers and to run mobile Dr Bike sessions.
Dave Hodgson, Mayor of Bedford Borough said, "It's great to see the eCargo bikes being put to use. These bikes have helped our teams to operate in an eco-friendly way, and hopefully encourage others to think about doing the same."
On Tuesday 15 November at Elstow Park And Ride, a range of electric vehicles including eCargo bikes will be available for local businesses to come along to take a look and speak with people that use them.