Image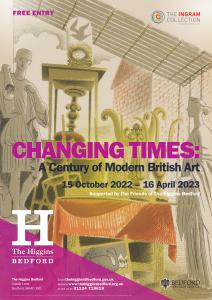 The Higgins Bedford is soon to welcome a new exhibition that brings outstanding British art of the 20th and 21st centuries to Bedford.
From Eric Ravilious, Edward Bawden and Paul Nash to Elisabeth Frink, David Hockney and Lucian Freud some of the biggest names in British art are coming together in a vibrant, wide-ranging exhibition at The Higgins Bedford that explores the history of British art of the 20th and 21st centuries.
Changing Times: A Century of Modern British Art will be the first large-scale exhibition since the reopening of The Higgins. The show will be spread over three galleries, and will bring together around a hundred works from two important collections: Bedford's own Cecil Higgins Collection and the Ingram Collection of Modern British and Contemporary Art.
Visitors will find sculpture, paintings and works on paper by some of the best-known and well-loved names in British art. Themes running through the show include the artist's self-portrait and the evolution of landscape painting.
Changing Times is curated by James Russell, previously curator of Eric Ravilious and Edward Bawden at Dulwich Picture Gallery.
The exhibition is accompanied by a major new book - Revisiting Modern British Art, published in association with The Ingram Collection and edited by Jo Baring (Director, The Ingram Collection). In this wide-ranging and thought-provoking publication, published in October by Lund Humphries, experts in their field, including Changing Times curator James Russell, address specific aspects of British art of the 20th-century. Complemented by a range of striking images, this publication succeeds in showing the strength of the British artistic tradition while also encouraging the reader to rethink and explore the existing narrative.
Cllr Doug McMurdo, Portfolio Holder for Leisure and Culture at Bedford Borough Council, said: "It's great to welcome this exhibition to the Higgins. Visitors will have the opportunity to enjoy modern art not seen in Bedford before, sitting alongside our own amazing collection."
This exhibition has been made possible as a result of the Government Indemnity Scheme. The Higgins Bedford would like to thank HM Government for providing Government Indemnity and the Department for Digital, Culture, Media and Sport and Arts Council England for arranging the indemnity.
This free exhibition opens on Saturday 15 October and runs until 16 April 2023.
The exhibition is supported by The Friends of The Higgins Bedford.