Image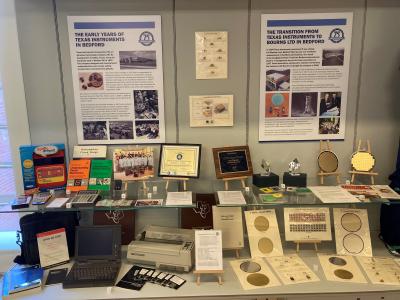 The Higgins Bedford is hosting an anniversary display, Texas Instruments to Bourns in Bedford: 75 years of Technological Innovation, exploring the early years of the Texas Instruments site at Manton Lane, and its transition and takeover by Bourns in 2000.
Over the last 22 years, Bourns have continued to drive technological innovation in Bedford continuing to manufacture state of the art semi-conductor wafers, which can be found in a range of business and domestic products including mobile phones, cars and vacuums.
Councillor Doug McMurdo, Portfolio Holder for Leisure and Culture, said, "The company continues to be a valued employer for Bedford still based at its original site at Bedford Heights. It's great to be able to celebrate their 75 years with this excellent display of Texas Instruments and Bourns products."
Come and enjoy reminiscing over Texas Instruments products such as Speak and Spell, Little Professor and hand-held calculators and laptops. Learn more about the semi-conductor wafers and products created by Bourns today and how they are used. Watch the film of Bourns employees speaking about their long-service with the company, what it was like working there over the decades to the present day.    
The display continues until the end of June 2023 and is free to visit.
Visit The Higgins Bedford website for more information at www.thehigginsbedford.org.uk