Image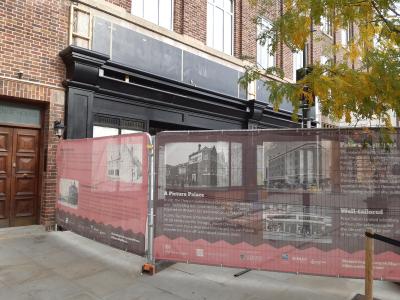 Works under the High Street Heritage Action Zone (HSHAZ) in Bedford continue with exciting progress being made on 58a-c High Street, which includes Sundaes Gelato.
The works currently taking place aim to reinstate the traditional shopfront with the potential to add more flexible retail space in a prime location on Bedford High Street.
The reinstatement programme will see the installation of black granite on the exterior of the premises. This includes new stall risers and the upper pediment sign section, which is adorned with chrome lettering evocative of the classic shopfront previously in place on the landmark building.
Bespoke lanterns with intricate detailing will be positioned along the front of the building, which match the bronze handles fitted to the doors. In keeping with the original design, traditional awnings are also being installed above the newly-glazed windows. On the Sundae's part of the property, the upper sections of the windows will also feature red glazing as a nod to the popular colour scheme that many associate with this well-loved dessert restaurant.
Another exciting feature of the works is the potential to add new retail space to the Silver Street Square side of the property. 58a and 58b have been designed in such a way that they can each be split into two different units. What was previously four retail spaces now has the potential to house six different businesses in smaller more flexible units to support Bedford's outstanding independent sector.
Councillor Henry Vann, Portfolio Holder Town Centres and Planning, said, "Fantastic progress is being made on the reinvigorated Silver Street Square, with these new units and a boosted shopfront for the wonderful Sundaes Gelato. This is a prime piece of real estate, located on the corner of Bedford High Street and Silver Square, and is a great next step for the HSHAZ scheme.
"I am, as I'm sure many other residents are, really looking forward to seeing the finished article and with more on the way."
Christina Rowe, Director of BedfordBID, said, "The quality of the workmanship and flexibility of these new sized units in this area will be a welcomed addition to this location and town centre generally along with the arrival of new start-ups. 
Further updates are expected to follow soon.
Property owners on Bedford High Street can still sign-up to take part in the scheme by emailing Jessica Mittler, HSHAZ Project Manager, for an informal conversation: jessica.mittler@bedford.gov.uk.