Image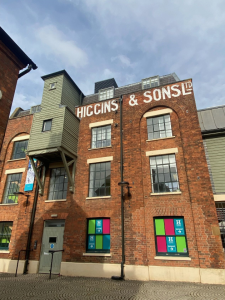 For the first time ever Bedford Borough Council has been successful in joining ACE's national portfolio of funded organisations (NPOs). The Higgins Bedford has received a conditional funding offer of £65k per year for three years from 2023-2026.
This funding will enable The Higgins Bedford to do more to realise the potential of its nationally significant collections and redeveloped facilities. It will be able to deliver even more opportunities for outstanding cultural experiences to local residents. Existing work will continue with a renewed focus on engaging with the diverse communities of Bedford Borough. This includes:
Enhancing the school learning programme to reach children with lower levels of cultural engagement
Evolving the programme of creative activities to better serve early years and target families who currently have lower levels of cultural engagement
Developing the exhibition programme and community engagement work to better reflect community perceptions of its outstanding collections
Engaging with the community and local partners to develop interpretation projects inspired by Bedford Borough's diverse cultural heritage
Working with partners to develop creative and wellbeing workshops for adults, inspired by collections and exhibitions at The Higgins Bedford
Councillor Doug McMurdo, Portfolio Holder for Leisure and Culture, said, "This is a fantastic achievement from the team at The Higgins Bedford. We are very grateful to Arts Council England for this funding.
"This will help us to engage our diverse communities with cultural and creative opportunities even further. It will be exciting to witness these initiatives develop over the next three years.
"We would like to congratulate Full House Theatre and Bedford Creative Arts who have also been awarded funding and are disappointed that other applicants from Bedford Borough have been unsuccessful."
Arts Council England (ACE) has announced details of its new national portfolio of funded organisations for 2023-2026, which will help deliver 'Let's Create', its 10-year strategy for culture and creativity.
ACE is investing £446 million each year between 2023-26 in 990 organisations with creativity and culture at their heart. ACE are boosting spending in arts, museums and libraries in villages, towns and cities where investment is currently too low. Bedford is historically a place of low Arts Council investment.
Other local NPOs include:
Bedford Creative Arts (retaining NPO status)
Full House Theatre (new NPO)
This ACE portfolio focuses on making certain that people engage with the very best of art and culture on their high streets and in community spaces. The aim is to reach even more people, no matter where they come from or what their circumstances are.
Arts Council England Chair, Sir Nicholas Serota, said, "As well as continuing our commitment to our many established and renowned cultural organisations, I am deeply proud of the support we will be giving to those new organisations which will help ignite creativity across the country.  We are facing economic pressures at present but this funding is about an investment in our future. This portfolio will support the next generation of visionary inventors, makers, performers and artists. In particular, the growth of our funding for organisations that support and develop work for children represents a profoundly important long-term investment in our country's talent."