Image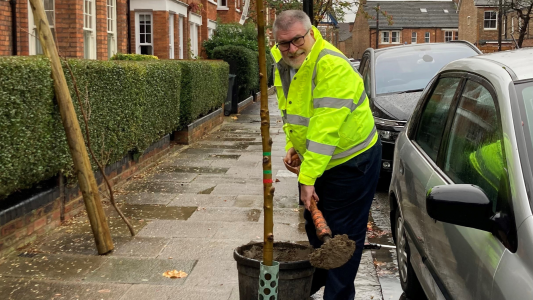 Mayor Dave Hodgson assisted with the planting of a replacement Sorbus tree on Cornwall Road last week. The Council Highways team have been working hard to reinstate historic tree pit locations across Bedford Borough. Over 130 new tree pits have been created in the past two years, the majority this year.
The tree pits are now ready for replanting, allowing trees lost over the last ten years to be replaced. These replacement trees have been purchased with Funding from the Local Authority Treescapes Fund.
Mayor Dave, said, "It's fantastic to see so many tree pits coming back to life thanks to the hard work of the Council Environment teams.
"This is one of two trees on the street that residents have been looking forward to being replaced. It was great to speak with one householder who has offered to help water the tree in warmer months and update the team through the website if the tree requires any further care."
New tree pits have also been created for trees sponsored by residents as part of Trees for Streets. The Trees for Streets partnership makes it easy for residents to donate and care for trees in their neighbourhood. It has led to new trees on residential streets and a number of celebration trees in local parks to commemorate notable life events.
Teams will continue to plant trees into next year, planting at this time gives trees the best chance of establishing.
Accepted requests made on the Trees for Streets website by 5th December will be planted this winter. After this date, sponsored trees will be planted during the next planting season from November 2023 to March 2024.
National Tree Week runs from 26 November to 4 December, learn more about trees in Bedford Borough as well as how to sponsor a tree at www.bedford.gov.uk/trees.
Related news