Image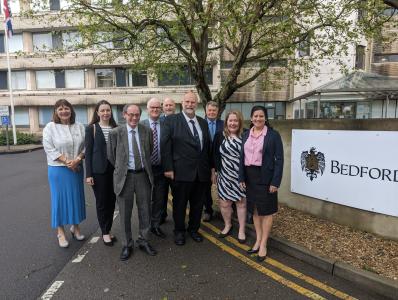 Following the local elections on 4 May, the elected Mayor for Bedford Borough, Tom Wootton, has announced the team which will govern the council for the next four years.
The council's Executive is made up of nine executive members, each with their own portfolio of services to govern. They are:
Elected Mayor – Mayor Tom Wootton
Deputy Mayor and Portfolio Holder for Environment, Highways and Transport – Councillor Jim Weir
Portfolio Holder for Finance, Risk and Welfare – Councillor Graeme Coombes
Portfolio Holder for Family, Education, Children's Services – Councillor Jane Walker
Portfolio Holder for Adults Services – Councillor Robert Rigby
Portfolio Holder for Leisure and Culture – Councillor Sarah Gallagher
Portfolio Holder for Community Safety, Regulatory Services and Housing – Councillor Phillippa Martin-Moran-Bryant
Portfolio Holder for Town Centres and Planning – Councillor Andrea Spice
Portfolio Holder for Health, Public Health and Wellbeing – Councillor Martin Towler.
These positions were formalised at the Annual Council meeting which took place on Wednesday 17 May, 6.30pm at Bedford Borough Hall in Bedford.
Elected Mayor, Tom Wootton, said, "Bedford Borough's best days are ahead and this is the team which will make that a reality."
Find information on the Council's senior staff, including the Chief Executive and Mayor, as well as local Councillors at www.bedford.gov.uk/your-council/councillors-and-senior-staff.
Related news