Image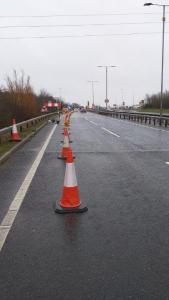 Resurfacing works are planned for Paula Radcliffe Way in summer 2023. Signs will soon be put in place to give advance warning of the dates of the roadworks. The works will see the dual carriageway resurfaced between Great Ouse Way and Bedford Road, Clapham.
Mayor of Bedford Borough, Dave Hodgson, said, "We are committed to providing high-quality roads and infrastructure for the residents of Bedford Borough. The roadworks on Paula Radcliffe Way are a crucial step in ensuring the long-term reliability and safety of this important road. I would like to thank residents for their patience and understanding during the roadworks.
"This will also provide the opportunity to review and repair the bridges, street lights and crash barriers along this stretch of road, minimising the need for future disruption and keeping this route safe for all road users."
The contractor will soon carry out an investigation to confirm the full scope of these works. This will involve some lane closures on the dual carriageway.