Image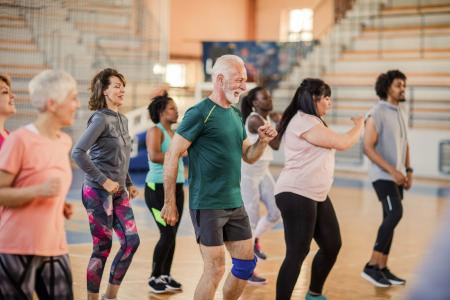 Bedford Borough Council's Sports Development Team, in partnership with Be Active, are announcing the launch of a new physical activity programme called "Active Wellbeing". These weekly sessions will offer gentle physical activity for cancer prehab/rehab patients and anyone experiencing other long-term health conditions. The sessions are set to start on Monday 27 February 2023.
The sessions will provide a very gentle entry-level class. The aim is to bridge the gap between recovery and full participation. Larissa Clarke (Transition Coaching), who is a very experienced and friendly local coach, will deliver the sessions. Larissa is qualified to work with people with a wide range of physical and mental health conditions.
Councillor Doug McMurdo, Portfolio Holder for Leisure and Culture, said, "When illness leads to a reduction of activity it can be challenging to get back into exercise.
These sessions offer a great opportunity for people in our community with a long-term illness to get back to regular exercise at their own pace."
Research has shown that being physically active during and after treatment is a positive step to recovery. Macmillan Cancer Support states, "It may help you manage the late effects of treatment. It may also reduce the risk of certain cancers coming back."
The sessions are funded by Sport England with the Together Fund. The Together Fund is targeted to deal with issues caused by coronavirus. It aims to support organisations working with priority audiences.
There will also be advice and guidance to help people progress to more demanding activities. The main classes will take place at John Bunyan Sports and Fitness, Mile Rd., Bedford, MK42 9TS.
The sessions are for anyone experiencing cancer or a long-term health condition. They are designed for people who are preparing for or recovering from treatment or a long-term health condition, that have been advised that physical activity will be beneficial. Anyone who identifies as needing to take part in very gentle exercise sessions will also be welcome.
For more information on the programme and how to register, please visit https://www.bedford.gov.uk/leisure-parks-and-sport/sports-and-physical-activity/active-wellbeing-sessions.
For more information on cancer support groups visit www.macmillan.org.uk/cancer-information-and-support/get-help/emotional-help/local-support-groups.
Discover further sports and physical activities for all ages and abilities in Bedford Borough at https://www.bedford.gov.uk/leisure-parks-and-sport/sports-and-physical-activity.
Related news