Image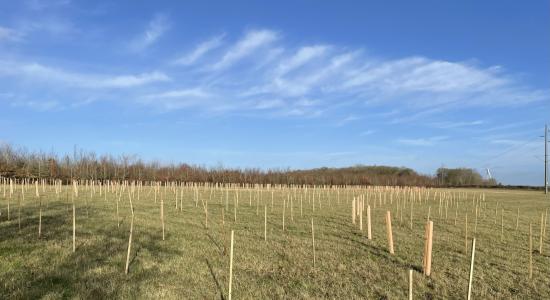 The first Miyawaki planting project in Bedford Borough will take place at Longholme Way, Bedford, on Saturday 21 January. This is an exciting opportunity for volunteers to make a positive impact in their community by helping to create dense, biodiverse urban forests using the Miyawaki method with native trees.
This project is in partnership with the Forest of Marston Vale, Cranfield University and Bedford Rotary Club. It is also supported by the Department for Environment, Food and Rural Affairs Trees for Climate initiative. 3,200 trees will be planted close together to create a mini-forest within 10 years. The Miyawaki method is estimated to lead to forests growing up to ten times faster than traditional planting styles.
Councillor Charles Royden, Portfolio Holder for Environment, said, "The Miyawaki planting project is a fantastic initiative that brings together the community to make a real difference to our environment and meet new people.
"I encourage anyone who is interested in getting involved to sign up and lend a hand. Together, we can create a greener, healthier community for all to enjoy."
The Miyawaki method is a proven technique for creating sustainable forests in urban areas. It involves planting a diverse selection of native trees and shrubs closely together. This allows the plants to grow quickly and create a healthy ecosystem. The resulting forests not only look attractive, but also provide environmental benefits such as improved air quality, reduced noise pollution, and increased habitat for local wildlife.
Volunteers will be able to help with the planting of the trees. All ages are welcome, although those under 16 will need to be accompanied by an adult. No prior experience is necessary, just a willingness to get your hands dirty and help out. Staff will be on hand to help with guidance and advice.
Anyone interested must book in advance so that the team can safely manage this project between a busy main road and the river. Further information, such as how to access the site, will then be provided. Planting sessions are up to one and a half hours starting at; 9:30am (fully booked), 11am (fully booked), and 1pm (fully booked). To learn more or sign up to volunteer, please email; volunteering@bedford.gov.uk.
Future volunteering opportunities for planting events include;
Maskell Drive 26 January, 10:30am and 12:30pm – 1,600 trees to be planted in the northern area of Maskell Drive to increase woodland plots. What3Words location; ///hats.mutual.fine
Duchess Road 3 February, 10:30am (fully booked) – 120 trees to boost the local environment and help reduce noise pollution. What3Words location; ///beam.bucks.tonic
Thor Drive date TBC – 110 trees to increase diversity in the Thor Drive greenspace. What3Words location; ///daisy.glee.late
Attendees should wear suitable warm clothing, including gloves and boots. Equipment, such as spades and clout hammers will be provided on the day but the Council are inviting people to bring their own, where possible.
Learn more about trees in Bedford Borough at; www.bedford.gov.uk/trees.
Related news