Image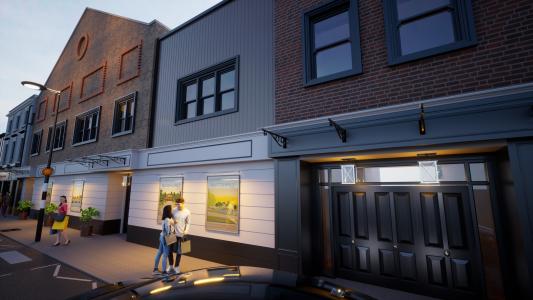 Work is expected to start imminently on the gateway Midland Road scheme, one part of the £22.6m Bedford Town Deal secured in June 2021.
One of the "Town Investment Plan" schemes proposed by the Town Deal Board is the regeneration of Midland Road, from Greyfriars to Ashburnham Road and the train station. As part of the scheme, shopfronts and buildings will be enhanced in this important entrance to the town.
Modelled on the successful High Street schemes run by the Borough Council, more than £1.4m of funding will be utilised to provide a grant to cover 80% of the cost of works to premises on Midland Road, incentivising owners to invest in their businesses and buildings.
The project will be a once in a generation opportunity to invest in Midland Road and help create a vibrant corridor connecting the Train Station and Town Centre.
Samantha Laycock, Chair of the Bedford Town Deal Board, said, "The plans for Midland Road are really exciting and represent positive progress in bringing our Town Investment plan to life.
"Midland Road is the primary gateway from Bedford Train Station into the town centre and this investment will help regenerate a key area of our great town.
"The funding we've secured to help breathe new life into this area will not only help improve the physical condition of the corridor, it is also providing new shopfronts to businesses in the that are such an essential part of the local community.
"We're looking forward to seeing the visible difference this will bring to Midland Road."
Dave Hodgson, Elected Mayor of Bedford Borough, said, "This is an important part of our plan to continue to grow Bedford Borough as a great place to live, work and stay.
"The project will help restore Midland Road as a key entry point to the town and town centre and as well as improving the overall look and feel of the town, will help make the premises in the area become more secure and energy efficient, helping to reduce energy costs as well.
"The shopfront improvement project is just one part of the Midland Road scheme, with additional project to invest in the public realm – the environment we walk, cycle and drive through – also planned for this same stretch of Midland Road."
The Council's Town Deal Manager and expert teams are currently speaking with Midland Road property owners to engage them in the scheme and expect works to begin in 2023.
If you own a property on Midland Road, between Greyfriars to Ashburnham Road, you can contact the Town Deal Manager by emailing Patrick.Lyons@bedford.gov.uk to find out more.
Related news