Image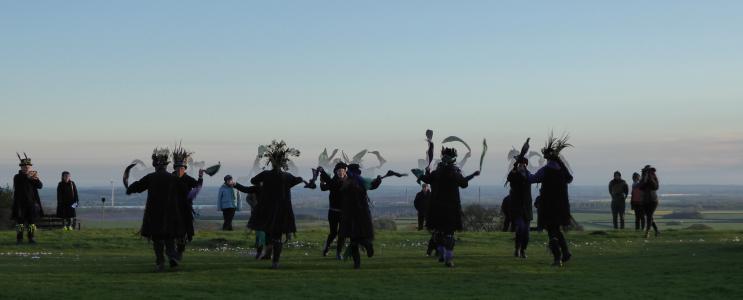 The English tradition of Morris dancing will take centre stage at The Higgins Bedford this St. George's Day weekend. On Saturday 22 April, from 11am to 3pm. The museum will host "Come In, St. George," a day celebrating Morris dancing with talks, discussions and displays of Morris dancing. It is free to attend, and everyone is welcome.
On St. George's day itself, Sunday 23 April, The Higgins Bedford and the gift shop, will be open for its usual Sunday hours of 2pm – 5pm. Entry is free and people can discover what's on display at www.thehigginsbedford.org.uk.
Saturday starts with a talk and discussion from 11am to 12.30pm about how Morris dancing has changed locally in recent history. Subjects will include the growth of women's and mixed Morris dancing, new approaches, and the impact of the equality and diversity debates.
Experts will share research and memories of Morris Dancing, while reflecting on the changes they have seen over the years. Contributions and questions from visitors will be welcome.
The celebration continues with Morris dancing in the courtyard from 1.30pm to 3pm. Local groups; Hemlock Morris, Red Cuthbert Morris and Golden Hare Morris will each demonstrate their own unique approaches.
The entertainment ends with a traditional mummers' play by the Barfront Guizers in which St. George (Hooray!) and a valiant knight (Boo, Hiss!) argue over who killed the dragon. This is traditional entertainment for all the family!
Councillor Doug McMurdo, Portfolio Holder for Leisure and Culture, said, "Morris dancing is a wonderful English tradition and this day brings the residents of Bedford Borough a really engaging opportunity to learn more about it."
He went on to say, "The Higgins Bedford is open every Sunday 2pm to 5pm, which means people can visit on St. Georges Day, 23 April too, and explore our local and national history and traditions."
The Higgins Bedford, MK40 3XD, can be found behind the Castle Mound on Bedford's Embankment. It unites the three previous venues of Bedford Museum, Bedford Gallery, and the Cecil Higgins Art Gallery.
Related news