Image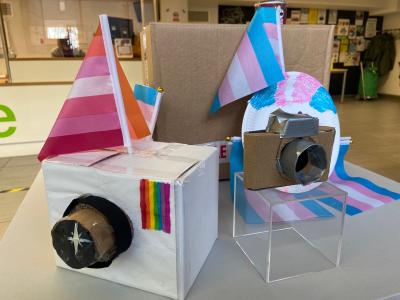 The Higgins Bedford is celebrating LGBT+ History Month this February with a new art display and creative events for visitors to enjoy.
This year's theme is 'Behind the Lens,' which explores the contributions of LGBT+ individuals to cinema and film through their roles behind the camera as directors, musicians, make-up artists and more.
Councillor Doug McMurdo, Portfolio Holder for Leisure and Culture, said, "It's fantastic to see The Higgins Bedford celebrating LGBT+ History Month again this year. There are great interactive events planned for everyone in our local community to get involved with, so please come along."
From Tuesday 7 February, The Higgins Bedford will be displaying artwork created by local LGBT+ community participants. Visitors will also be able to follow a trail featuring LGBT+ artists in the 'Changing Times' exhibition at the Art Gallery.
On Saturday 25 February, The Higgins will hold its LGBT+ History Month celebration day. There will be a photography workshop based around the theme 'What LGBT+ means to me,' and spoken word poet Saskia Lawrence will also host a workshop and performance.
To book your place at the workshops, please email The Higgins Bedford at thehiggins@bedford.gov.uk or telephone 01234 718618.
Related news