Image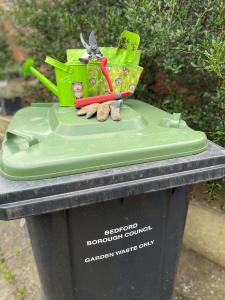 Garden waste collections resume from 1 March 2023. Green lidded garden waste bins will need to go out alongside orange lidded recycling bins by 6am on the next recycling collection day.
Bin collection days for each colour bin can be found on the council website by entering a postcode at www.bedford.gov.uk/bins.
All garden waste needs to be contained and loose within the green lidded bin. The crews will not take any garden waste left out next to a bin. Waste that will not fit in bins can be taken to the Household Waste and Recycling Centre visit www.bedford.gov.uk/hwrc for further information and to see if a free permit is required before a visit.
Councillor Charles Royden, Portfolio Holder for Environment, said, "We are proud that unlike many councils we continue to provide garden waste collections without making additional annual charges to residents. From the start of March to the end of November 2022 we collected 10,125 tonnes of garden waste that was composted at a local site in Ravensden.
"I encourage residents to also consider composting what they can and it's fantastic that the council can provide compost bins at a subsidised price for households."
What can go in the green lidded bins; grass cuttings, plants and weeds, flowers, pruning, hedge clippings, leaves and bark, and pond plants.
Please don't put in; food waste, DIY waste (e.g. soil, rubble, wood), pet waste including bedding, invasive weeds (e.g. Japanese Knotweed), plant pots, plastic bags or sacks, garden furniture or fencing.
You can find out what should and shouldn't go in the different colour bins at www.bedford.gov.uk/mybins.
If people are finding their green lidded bin is always full they could try composting at home. It's an easy way to reduce the amount of waste thrown into both the rubbish and garden waste bins and at the same time creates a great compost for gardens.
The Council offers 330 litre compost bins and 220 litre water butts at subsidised prices, find more information on this and other ways to reduce waste at www.bedford.gov.uk/ReduceWaste.
Related news