Image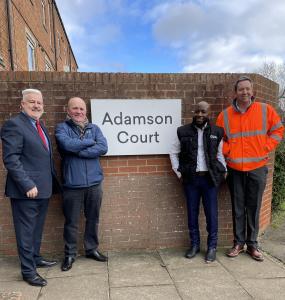 Councillor Charles Royden, Portfolio Holder for Environment, joined representatives from Places for People, Bedford Borough Council and other partners for a site visit of Adamson Court, Kempston in February It was an opportunity to learn how funding from the Social Housing Decarbonisation Fund will be used to benefit residents.
Bedford Borough Council made a successful bid for £1,220,083.15 of funding. This has been matched by Places for People who are managing the projects. The funding must improve social housing with an Energy Performance Certificate rating of D, E, F, or G. The improvements must increase the rating of these homes to at least a C.
Places for People will work with Bedford Borough Council to install retrofit measures in rented social housing. This will enable residents to use less energy, reduce carbon emissions, and make their homes more comfortable. It is expected that 95 homes in Bedford Borough will benefit from this investment. Residents will soon receive further details and work is expected to start in Spring 2023.
Mayor of Bedford Borough, Dave Hodgson, said, "Thanks to our successful bid we have an opportunity to improve the energy efficiency of social rented homes for people living locally.
"It was fascinating to hear the plans for this site and the different ways in which this money will make these homes more comfortable and sustainable places to live."
Derek Watters, Head of Environmental Sustainability at Places for People, said, "As a leading UK social enterprise, creating economically, socially and environmentally sustainable places, and building communities where all can thrive is at the heart of what we do. As one of the biggest housing associations in the UK, and one with a unique mixed economy business model, we know we have the potential and capability to supercharge environmental and social advances.
"Thanks to the support from Bedford Borough Council we can make substantial improvements to improve the quality, efficiency and safety our of customers' homes at Adamson Court and are confident that the measures we plan to deliver will not only support our customers but leave a positive environmental change in the area.
"The measures include external wall insulation, new energy efficient double-glazed windows, ventilation, loft insulation and heating and hot water upgrades."
The Social Housing Decarbonisation Fund demands a fabric-first approach. This prioritises repairs, insulation draught-proofing and ventilation. It aims to; reduce carbon emissions, tackle fuel poverty, support green jobs, develop the retrofit sector, and improve the comfort, health and well-being of social tenants.
Learn more about what Bedford Borough Council is doing to reduce carbon emissions at www.bedford.gov.uk/environmental-issues/sustainability. Energy and water advice for residents, businesses, and schools is available on the same page.